Sidebar
Brewing Crio Bru in a Thermomix
One of the best ways to make Crio Bru is in the Thermomix, with the HEALTH BENEFITS of this delicious coffee alternative, Crio enthusiasts are always on the lookout for great ways to brew.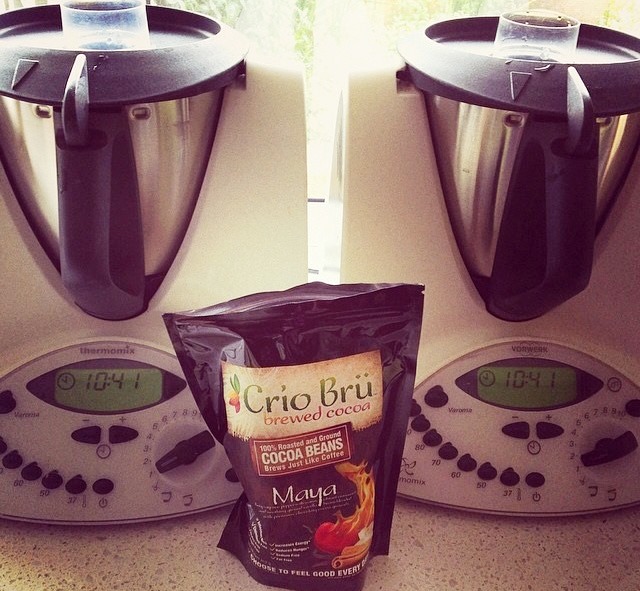 Because of the precise, constant temperature, brewing Crio Brü in theThermomix is ideal and one of the most popular ways. It results in a rich, deep cup of Brü and is so easy to do :
How To Make Crio Brü in your Thermal Mixer
Place 50g into bowl with 8-900g water and cook for 10 min/90°C/speed 2.
Whiz for 10 sec/speed 5.
Press with coffee plunger/French Press or simply pour through a tea strainer
Serve and enjoy! Just as with coffee, adjust to personal taste with creamer and/or sweetener.
Above is the BASIC way to brew a plain cup but as many of you will know, the Thermomix World of recipe creators is amazing and we have some super talented Thermomix guru's out there sharing their magic with the World. We are fortunate to work with many of them and will elaborate more on recipes in another blog post but the following 'super charged' ways to Brew Crio in a Thermomix are recipes that you have to know about!
SKINNYMIXER'S BULLET PROOF CRIO
Not drinks but you still need to check these out !
THERMOBEXTA'S CRIO SESAME BARS
SKINNYMIXER'S MEXICAN CRIO CHICKEN
We hope you get some inspiration from these amazing Thermo Queens!
Make sure you show them some Crio Love!

ARE YOU NEW TO CRIO BRU? WE RECOMMEND STARTING WITH CAVALLA - READ ALL REVIEWS
GET 10% OFF YOUR FIRST ORDER WITH THE CODE THERMO - VALID ON ALL PRODUCTS VIEW HERE